Dumfries Prison governor targets inmate drug problems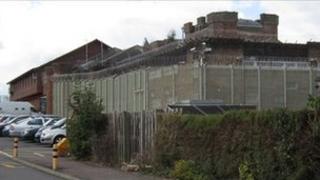 The governor of Dumfries Prison has said dealing with inmates' drug problems will play a big part in a new project aimed at reducing reoffending.
Martyn Bettel was speaking at the launch of the multi-agency programme in Dumfries and Galloway.
At present about three-quarters of those serving short sentences in the prison have been jailed before.
Mr Bettel said he wanted to change that statistic by giving them better support after their release.
The Community Integration Pathways scheme aims to help former inmates back into the community.
The governor of Dumfries Prison said dealing with drugs issues was one element of that.
"While they are in there they are either stabilised or - even better - we get them off drugs," he said.
"What we need to do is continue with that on the outside.
"It doesn't work with all prisoners - but even if we grab some of them, it is a success."
The project also looks at finding homes and jobs for former prisoners once they have served their time.
John Newton, of Perth and Kinross Council, which has already introduced the programme, said it was showing all the signs of being a success.
"Some of the feedback that we are getting is indicating that the input of employability services, drug and alcohol services and housing are particularly effective," he said.