Dumfries and Galloway munitions worker recognition plea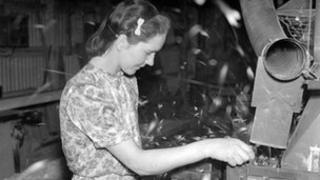 An MP is seeking details of munitions factory workers from both world wars in order to seek formal recognition from the UK government for their efforts.
Russell Brown said many of them had been employed in factories in his Dumfries and Galloway constituency.
He has been leading the effort to win recognition for the predominantly female workforce.
He said the main reason it had not happened was the lack of a complete list of who was employed at the sites.
Now he has called on local people to get in touch with the details of individuals in the region who worked in the factories.
He has put an online form on his website where information can be logged.
Mr Brown said: "Munitions workers - the majority of whom were women - played a vital part in the war effort and deserve to be recognised by our country.
"Our nation owes a debt of gratitude to these heroes on the Home Front, many of whom were seriously injured or even killed during their hard and dangerous work.
"I have been pressing government ministers to take action and I am pleased that we are making progress, albeit not as quickly as I would like."
He said there was "general agreement" workers should be recognised but talks were ongoing on what form it should take.
One option would be an individual badge or alternatively some kind of local memorial.
However, he said he needed the help of the public in order for the plans to progress.
"Since there is no list of women who worked in munitions factories, our best sources of knowledge are the communities themselves," he said.
"Many local people knew someone or had a relative who was in the munitions factories and I want to bring all this knowledge together.
"I am asking that local people get in touch with whatever information they have - we need the names of workers, where they worked and when they worked."
'Fitting tribute'
His Labour colleague, Dumfriesshire MSP Elaine Murray, also urged people to come forward and said it was time to honour those who risked "life and limb" to provide ammunition for soldiers on the frontline.
Dumfries and Galloway Council's armed forces champion, Archie Dryburgh, added: "Munitions workers deserve a fitting tribute because without them the wars wouldn't have been won.
"As husbands, fathers and brothers went off to the frontline, women played a vital role in the war effort in the factories at home.
"Dumfries and Galloway was an important location for wartime munitions, with factories in many of our towns, so I know this is an issue close to many local people's hearts."