Scottish Borders Council makes winter service pledge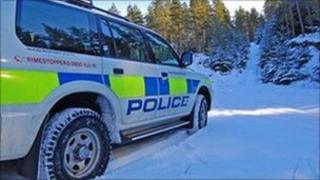 Scottish Borders Council has promised to do everything it can to ensure the region can cope with any wintry weather in the coming months.
The area has been particularly badly hit over the past two winters.
The local authority said it would do all it could to keep schools open and roadways clear.
However, it added that communities and individuals could also play a part in tackling any problems which arose as a result of the severe weather.
The council's pledge comes as many parts of Scotland have been hit by the first significant snowfalls of the winter.
The Scottish Borders has not been among the areas worst affected.
The council's director of environment and infrastructure, Rob Dickson, said the local authority was ready to do what it could if the bad weather returned.
"We've had two really severe winters and that has obviously caused us to look at the services we offer and the way we plan our services and the way we deliver our services," he said.
"There have been many, many lessons learned from those very challenging winters.
"We think we did well but we recognise there are things we could have done better and I think we have put a set of plans and service changes in place for this coming winter that will stand us in good stead."
Resilience networks
He added that the public also had a key role to play.
"There is a certain amount the council can do but ultimately every single individual, no matter where they live or what they do, can play their part in helping," he said.
"And a big part of what we and colleagues in emergency planning have been doing is speaking to community councils and other community groups about local resilience networks."
He said that kind of self-help was often the best way of allowing rural areas to "get about their normal day-to-day business".