Lochmaben teen Lisa Watson jailed for soldier assault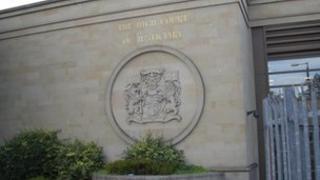 A young woman who stabbed a soldier who refused to leave her Dumfriesshire home has been jailed for 40 months.
Lisa Watson, 19, was found guilty of stabbing Sean Caven in the neck and chest to the danger of his life in her Lochmaben home in February.
She was originally charged with attempted murder but a jury cleared her of the more serious charge.
A judge told her it was true she had "no significant record" but had clearly "lost control" of herself.
Mr Caven told the High Court in Glasgow how he and friends had been drinking at Watson's house in Lochmaben, Dumfries and Galloway, when she asked them to leave because she was tired.
The serving soldier said he had not wanted to go because he was worried about a female friend who was the worse for drink.
Mr Caven said that Watson confronted him on the stairs as he was coming down.
He said: "I couldn't get by - she hit me on the neck and I thought it was a punch.
"She struck me three times - it all happened very fast."
He said one of the blows punctured his lung and there was "blood everywhere".
The court was told that Mr Caven managed to walk to his nearby home and an ambulance was called.
He was in hospital for four days and off work for two months.
He was asked by advocate depute Sheena Fraser, prosecuting, how the attack had affected him and replied: "I was meant to go to Afghanistan with the lads and I couldn't.
"That's the only thing that bothered me."
Solicitor advocate Bill McVicar defending, told Mr Caven: "It is a matter of regret to Lisa Watson that she injured you that night."
'Deeply sorry'
He also asked Mr Caven if he thought Watson was scared of him, but he said he did not know.
Mr McVicar told the court: "She deeply regrets the harm that was caused to the complainer and she wishes it to be clearly known she is deeply sorry about what happened on that particular occasion."
He described the incident as "out of character".
On sentencing Watson, temporary judge Mark Stewart QC said: "It is true that you have no significant record and that you are a very young woman.
"But what is also true and cannot be escaped is that in that moment when you picked up a bladed weapon and stabbed this young man to his significant injury you lost control of yourself."