New Dumfries hospital views sought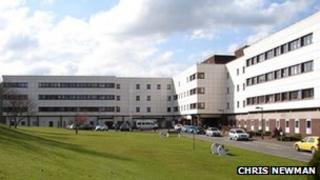 Public consultation is to begin in the new year on plans for a new £200m Dumfries and Galloway general hospital.
The region's NHS board is considering a development on the current Dumfries Infirmary site or moving to a new location in the town.
Previous proposals to upgrade the existing building, which was built in the 1970s, were ruled out.
The Scottish government has asked the health board to prepare an outline business case for the project.
A 12-week public consultation will be launched on 5 January.
It will involve a programme of drop-in sessions across the region but local groups and organisations will also be able to invite members of the project team to speak to them directly.
NHS Dumfries and Galloway - following a pre-consultation workshop last month - has ruled out the possibility of simply addressing the maintenance backlog at the existing hospital.
Instead, the public will be asked to comment on whether a new facility should be constructed on the existing site or at a different location in Dumfries.