Dumfries seagull egg and nest removal reduces numbers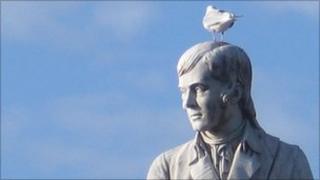 Council officials say a programme of egg and nest removal has led to a marked reduction in seagull numbers in Dumfries and nearby Heathhall.
They claim the number of nesting pairs is going down and that it is worth the project continuing.
A range of different measures has been tried over the years to tackle the problem with urban gulls.
This summer an overall 11% drop in the number of nesting pairs was recorded with a 20% decrease in the town centre.
The mess left by the seagulls as well as their swooping onto members of the public have been a problem for many years.
Previous attempts to address the issue have included the use of birds of prey to try to scare them off.
However, it now seems the nest and egg removal programme is proving effective.
The £35,000 cost of the project was met by the council and that is being recommended to continue.
A Dumfries and Galloway Council report said charging for the service - which has been run for three years - could put people off and would be difficult to implement where properties were in multiple ownership.