Bus passengers cower for safety in brick 'terror'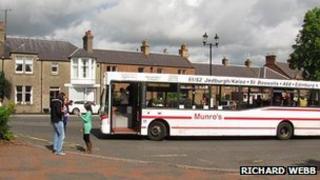 Police were trying to trace a youth who threw bricks at a bus in a village in the Borders.
The vehicle, operated by Munro's, was attacked as it pulled into the terminus at St Boswells at 19:00 on Saturday.
Lothian and Borders Police said a group of youths verbally assaulted the driver before one of them hurled missiles, smashing a rear window.
A spokesman described it as a "terrifying" and "alarming" ordeal for the passengers who cowered for safety.
The bus was travelling from Galashiels to Jedburgh when it stopped at St Boswells.
The youth who threw the brick is described as white, 6ft tall, with an English accent and wearing a grey hooded top and grey bottoms.
The police spokesman said the cost of replacing the broken window was £300.
A fire extinguisher was also damaged when a brick was thrown through the door.
"This must have been a terrifying ordeal for passengers," he added.
"It is a very alarming incident. We would ask anyone with information about the attack to contact the police."