Borders A1 death crash lorry driver jailed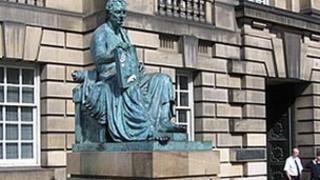 A lorry driver who caused the death of a surgeon in a crash on the A1 in the Borders has been jailed for a year.
Marc Bell, 38, of Gateshead, was also banned from the road for two years after being found guilty of careless driving.
Dr Mahmoud Abdel-Fattah, 42, of Dunfermline, was killed in the incident south of Cockburnspath in January 2010.
Passing sentence, Temporary Judge John Beckett described the fatal accident as "a tragic loss of life".
At the High Court in Edinburgh, he told Bell that Dr Abdel-Fattah's decision to stay in his car had contributed in part to his death.
However, he added: "You knew that there was snow lying on the surface of the road and that there could be ice.
"You knew there was an access junction at Tower Farm and knew that the road narrowed from two lanes to one and you knew you were approaching a crossing point.
"You saw the flashing lights that you thought was a gritting lorry - that in itself was reason for you to slow down."
He highlighted evidence that minutes before the accident, Bell had programmed his lorry to travel at a steady 52mph - faster than the legal speed limit.
He was still travelling at 46mph when he skidded and smashed sideways into the doctor's car.
Judge Beckett added: "As a result a highly-regarded surgeon, husband and father died and his wife and daughters lost a central figure in their lives.
"He was invaluable to his family and the wider community in which he worked and served.
"The loss of a loving husband and father has had a terrible impact on them, not only emotionally but financially, and there is no sentence I can pass that has any impact on their loss."
He accepted that there was "an element of misfortune" in the doctor's decision to remain in his car despite several other drivers inviting him to leave.
He added: "Nevertheless, you ought to have been alert to the possibilities and you had a significant amount of time to notice the presence of the orange flashing lights of the recovery vehicle and slow down."
'Nothing cavalier'
Defence counsel Iain Duguid QC said Bell's remorse and emotional distress at having killed someone were genuine.
He said he had spent time in hospital and was now seeing a psychologist to address mental health problems.
He had also lost his job and suffered financial loss as a result of his conviction.
He added: "His former employers have advised him that it's doubtful if he'll be able to be insured to work in the occupation he's worked in for the last eight years."
Mr Duguid also argued that Bell had been driving within the legal speed limit at the time of the crash, adding: "There was nothing cavalier about his approach to driving."