Dumfries and Galloway police operation seizes drugs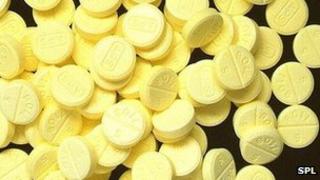 Drugs with a street value of nearly £50,000 have been seized in a police operation in Dumfries and Galloway.
Operation Ezra was carried out over a period of six weeks.
Drug squad detectives, working alongside uniformed and community police officers, swooped on a total of 40 households and other premises.
Some 114 people were searched during the raids and 57 charges were brought for drug possession and supply offences.
The drugs seized included heroin, cocaine, diazepam tablets and cannabis resin.
Acting Det Sgt Neil Smith thanked the public for help with information.
"We cannot always act immediately when we receive information, however it is more than likely that the piece of intelligence or information will form part of a bigger picture," he said.
"We will continue to work closely with our communities in working towards fulfilling our community promise of helping to 'impact on the supply, misuse and availability of controlled drugs'."
Det Con Scott Jardine said there was "particular concern" about the levels of diazepam being seized.
"We are aware of a growing trend in the use in Dumfries and Galloway of these types of drugs and are working closely with partners in the health and treatment agencies to try and get a better picture of the extent of the problem," he added.