Five Dumfries hospital sites identified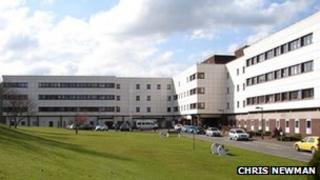 Five sites have been identified as potential locations for a new general hospital in Dumfries.
One of the options for NHS Dumfries and Galloway would be for the facility to stay on its current site.
The other locations being considered are at the Garroch or Lockerbie roundabouts on the A75, south of Tinwald Downs Road or in Locharbriggs.
A map of five possible locations for the £200m development is to be put on display at the town's DG One complex.
Previous proposals to upgrade the existing building, which was built in the 1970s, have been ruled out.
Now the Scottish government has asked the health board to prepare an outline business case for the new-build project.
The first chance for people in Dumfries to scrutinise the plans is being offered between 11:00 and 15:00 at the DG One centre.
As well as potential locations for the new hospital, NHS staff will be on hand to explain the need for the new facility.
The event also includes consultation on a Dumfries and Galloway Council report looking at wider development opportunities for the region.
The drop-in session will allow the public to have face-to-face discussions with regard to sites and policies.
A lengthy consultation process is planned before any final decision on a site for the new hospital will be announced.
If it moves to a different location, the council is considering the possibility of putting a new "super-school" for Dumfries on the area it vacates.
It could house S4 to S6 students from the town's four secondary schools.