Eyemouth duck owner promises allotment 'eviction' fight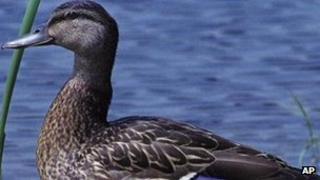 An Eyemouth man has vowed to fight a council ruling that he cannot keep a duck overnight on garden allotments.
James Anderson has been keeping Ducky at the site since she grew too big for his home in the town's Hurkur Crescent.
However, Scottish Borders Council has written to him and fellow plot holders saying ducks, geese and pigeons cannot be kept in the area overnight.
Mr Anderson said he would fight the ban and has launched a petition which has so far gathered 182 signatures.
He said: "Ducky has become a real attraction in the town.
"Having ducks on the allotments has a number of organic benefits, one of the main reasons being that they are good for slugging.
"I have sent in a five-page proposal to the council outlining all of the positives but I have yet to hear back."
Poultry policy
A council spokesman said only chickens were currently allowed to be kept on the site.
"The council has at no point, verbally or otherwise, agreed to let anything but chickens on the allotments," he said.
"We don't anticipate any changes to the terms of the lease in respect of other poultry being allowed on the site.
"However, we welcome any correspondence from Mr Anderson or any other members of the local community."