Scottish weather warnings hit record high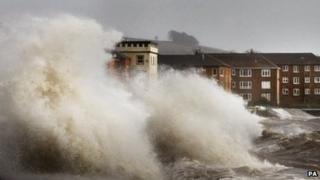 The number of Met Office weather warnings issued for Scotland in December is already more than three times the previous monthly record.
A new system of yellow, amber and red alerts was introduced in April.
The record number of warnings prior to this month stood at nine - which were issued in November.
After the first 16 days of December there had been 32 in total, including a first red warning which was issued for high winds across the country.
A Met Office spokeswoman said they did use a similar yellow, amber and red warning system before April.
However, it was based on certain criteria, such as specific wind speeds, being met across a wide area.
Red alert
The spokeswoman added: "Since March the warnings are based on both the expected severe weather and its impact.
"So decisions will take into account what areas will be affected."
She said that included how heavily populated an area might be, what time of day the worst weather might be experienced or any major events which might be affected.
By 16 December this year a total of 70 weather warnings had been issued since the beginning of April.
The majority of them were at the lowest yellow level with just 12 amber alerts and a single red warning which was issued on 7 December and updated the following day.