Scottish Borders Council grit bin policy defended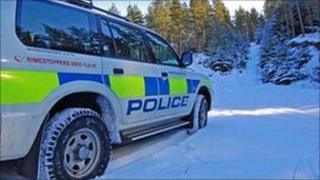 A senior Scottish Borders councillor has defended his authority's new policy on the provision of grit bins.
There were calls for the resignation of Cllr Jim Fullarton, executive member for roads and infrastructure, in light of a catalogue of complaints.
Members of the public were concerned that some grit bins had not been filled before recent snows arrived.
Mr Fullarton said the new criteria for locating the bins meant resources were being used more sensibly.
Scottish Borders Council agreed a range of measures earlier this year to cut spending on its winter services plan.
One of them was to reallocate the grit bins.
Mr Fullarton said that change was long overdue.
"Grit bins, seriously, had been positioned in the past for whoever shouted loudest," he said.
"We've had the ludicrous situation where bins were on roads where the gritter was going by."
He said a detailed review had now seen some towns end up with more grit bins than they previously had.
Mr Fullarton added that there was time for community "feedback" over where they felt the location might be improved.