Dumfries car parking charges ruled out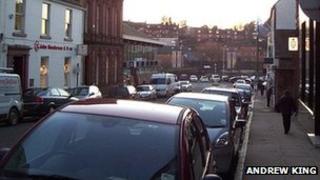 The leader of Dumfries and Galloway Council has ruled out the introduction of car parking charges in Dumfries.
Conservative Ivor Hyslop also accused the Labour group of indulging in scaremongering over the issue.
It followed comments by opposition councillor John Martin saying plans to close a store in the town underlined the need to avoid parking fees.
Mr Hyslop said it was wrong to link the two issues but said his administration would not seek car park charges.
The possibility of paying to park a vehicle in the town centre resurfaced in a report last month.
It has been estimated it could net the council about £1.9m-a-year but would cost nearly £700,000 to introduce.
The council has repeatedly said it was only studying the business case for the move but local Labour politicians launched a petition against any such scheme.
Mr Martin said this week that plans to close a Going Places branch in the town showed that parking charges should be ruled out.
Now Mr Hyslop has hit back saying the Tory/Lib Dem administration did not intend to introduce such fees.
He said council officers had been asked to look at ways to make budget savings or generate extra revenue and come up with a list of possible options.
However, Mr Hyslop said that he did not believe any political group wanted to take forward plans to make people pay to park in the town.
"We have no plans at this stage to put car parking charges in our budget for 12 February," he said.