Farewell to Queen of the South chairman David Rae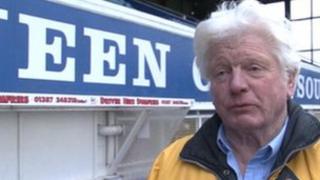 He was once described in song as "a farmer on a mission".
With his trademark yellow jacket, shock of untameable white hair and ability to deliver some unwittingly brilliant soundbites, Queen of the South chairman Davie Rae is something out of the ordinary.
But by this summer his tenure at the Dumfries club will be over as he announced recently he would be standing down.
When he does, he can look back over one of the most glorious spells in the Doonhamers' history.
Under his guidance they became firmly established first division regulars, played in a Scottish Cup final and enjoyed European football.
It was the kind of era Queens supporters scarcely believed possible for their club.
Perhaps the pinnacle of Palmerston pride came in a pulsating Scottish Cup semi-final with Aberdeen which the Dumfries side won by a 4-3 scoreline.
They narrowly lost the final to Rangers but the result still allowed them into the UEFA Cup the following season where they were knocked out by Nordsjaelland of Denmark.
It was something of a fairytale for the club and Mr Rae was, quite rightly, at the centre of plenty of media attention.
He revelled in it, often producing the length of answer to press questions that had reporters checking the batteries on their recording equipment.
He was, fittingly enough for a man used to working in the great outdoors, a breath of fresh air.
Cost-cutting exercise
More recent times, however, have not been quite so kind.
The club has drifted into financial difficulties and a Save Our South campaign was launched to help raise funds to support them.
Perhaps, in the enthusiasm of success, everyone had got a little carried away.
Still, Mr Rae soldiered on through the difficult times too and in the summer a cost-cutting exercise got into full swing under new manager Gus MacPherson.
Results on the pitch have not been what they would have hoped for.
The Doonhamers sit near the bottom end of the first division and the spectre of second division football seems a real prospect after many years of mid-table respectability and better.
It would be a shame if the Davie Rae era was to end that way.
He put a smile on the face of Queens supporters - and the wider Scottish football public - for much of his time in charge.