Funeral for motor racing mentor David Leslie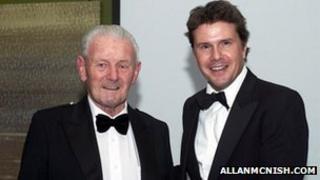 The funeral of one of the most influential mentors in Scottish motor racing has taken place in Dumfries.
David Leslie was a driving force in the early careers of stars like Allan McNish, David Coulthard and Dario Franchitti.
His son, David Jnr, was also a talented driver until his death in a plane crash three years ago in Kent.
David Leslie Snr died just before Christmas, at the age of 84, following a long illness.
He had been a leading light in Scottish karting when a new generation of ambitious and talented youngsters was trying to make a breakthrough.
That group featured the likes of McNish, Coulthard and Franchitti.
When McNish moved from karts to cars he joined the David Leslie Racing Team.
The team also backed Coulthard in his early career in Formula Ford, and Franchitti in Formula Vauxhall Lotus.