Solway Structural Steel closures confirmed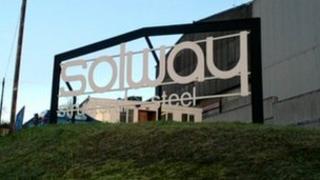 The firm which owns the Solway Structural Steel plants in Dumfries and Galloway and Ayrshire has confirmed both sites are to close.
Barr Limited said the decision followed a detailed review of the company's manufacturing facilities.
The move affects a total of 80 staff, split between a site in Creetown and a sister plant in Killoch, near Cumnock.
The process of scaling down and closing the operations is expected to take several months to complete.
Barr Limited said both plants were the victims of tough trading conditions within the construction sector which had seen demand for structural steel plummet.
In late December the company announced it was to conduct a review of the entire steel business and, in tandem, carry out a formal consultation with staff.
That process was not expected to be complete until next month, but a spokesman said with little prospect of trading conditions improving, they had taken the difficult decision to close the manufacturing sites at Creetown and Killoch.
Talks with workers were said to be continuing and all options to re-deploy some staff within the wider Solway Structural Steel division were being explored.
Dumfries and Galloway MP Russell Brown described it as a "deeply dark day" for the region.
"Solway Steel is a big employer and this closure will have a major knock-on effect on the whole area," he said.
He said his top priority was "bringing jobs to the area and sorting out our struggling local economy".