Scots farmers raise Common Agricultural Policy concerns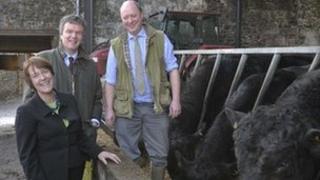 The head of the NFU Scotland has said talks with UK ministers helped to highlight concerns about changes to the Common Agricultural Policy (CAP).
Nigel Miller was speaking after a meeting at his farm at Stow in the Scottish Borders this week.
He said the discussions had covered "a lot of ground" at a crucial time in CAP negotiations.
The European Commission has released plans to change the way the farming industry is subsidised after 2013.
Mr Miller told Scottish Secretary Michael Moore and Secretary of State for Environment, Food and Rural Affairs Caroline Spelman that any alterations could have a "profound effect" on Scottish agriculture.
"We made it clear that Scotland will need to retain options on the delivery of support in order to address the great variation in our nation's farms," he said.
"It appears that a top priority for Ms Spelman is to reach a CAP outcome that allows flexibility for all members states and regions rather than a one-size-fits-all approach, a position that we fully support."
'Enormous benefits'
The UK ministers also met with fishing representatives and said they had taken the issues raised by both industries on board.
Ms Spelman said: "Scotland's produce is becoming the envy of the world thanks to the hard work of fishermen, farmers and everyone else involved in food and drink production.
"The success that the industry achieved in 2011 was phenomenal and brought enormous benefits to the economy of not just Scotland but the whole of the UK.
"We must now find a way to make sure that the industry can thrive by reforming the CAP and Common Fisheries Policy in a way that allows farmers and fishermen to continue to be successful in the future."
Mr Moore added that he would continue to work with local industries to "fight their corner in Europe" and ensure a "strong and thriving future".