Scottish fishing communities offered project funding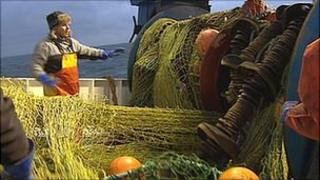 A scheme has been unveiled which offers more than £7m for projects which can "make a difference" to fishing communities across Scotland.
It is available for tourism, food and drink, renewable energy, training and environmental protection initiatives.
A total of 13 council areas across the country are taking part.
Rural Affairs Secretary Richard Lochhead said he hoped it would help "fragile fishing communities" become "more resilient".
Part of the funding is available via the European Fisheries Fund with the councils involved required to co-finance the support.
Eligible councils were invited to create Fisheries Local Action Groups (Flags) to consider applications and decide how the funding would be allocated locally.
It is expected that all Flags will be in operation by the spring.
There will be 12 in total covering Aberdeenshire, Angus, Dumfries and Galloway, East Lothian, Fife, Highland, Moray, Orkney, Shetland, Scottish Borders, Western Isles, as well as one joint Flag for Argyll and Bute and South Ayrshire.
A further slice of the funding will be managed centrally as a "co-operation budget" to encourage each area to share its ideas.