Selkirk man Greg Alexander died after mephedrone 'bomb'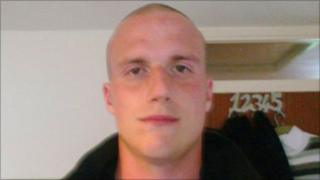 A former soldier from Selkirk died a few hours after swallowing a mephedrone "bomb", a court has heard.
However, a post mortem failed to establish what killed Greg Alexander, 23, as other substances were found and he also had pre-existing health issues.
As a result the man who supplied the drug - made illegal last year - was not charged in connection with his death.
Instead, Alistair Tough, 37, pled guilty to being concerned in the supply of mephedrone to five people.
They included Mr Alexander.
Selkirk Sheriff Court heard how both men were out watching football on the night of 2 March last year.
Procurator fiscal Morag McLintock said it was arranged through a common friend to go back to a house in the town's Scott Crescent, shortly after 23:00.
She explained how Tough had offered those assembled a "line" of mephedrone which all, except one of them, had taken.
Then, at about 01:00 the following morning, he asked if anyone would like a "bomb" of the same drug, which involves swallowing a package of the substance.
Ms McLintock said: "The accused and the deceased both swallowed one."
She said about 15 to 20 minutes later Mr Alexander's behaviour was "noted to change" and he "began acting erratically".
He was put in another room in the recovery position but when he stopped snoring an ambulance was called although paramedics were not told about what had happened earlier.
"He was taken to Borders General Hospital where at 03:52 his life was pronounced extinct," Ms McLintock said.
She said police obtained a search warrant for Tough's home in Gaitschaw Lane, Selkirk, on 5 March where they discovered three bags of white powder which was mephedrone with a street value of £24.
No direct link
They also found a business card and mobile phones which she said proved drug dealing had been going on.
Ms McLintock added: "With regard to the post mortem report it is fair to say there is not one single cause of death.
"The deceased was found to have mephedrone in his system but it cannot be identified by the Crown as what directly killed him."
She said if there had been a direct link between the death and the mephedrone "bomb" then Tough would have been facing much different charges in a higher court.
She said the other four named people who took the drug lines that night did not suffer any consequences.
Matthew Berlow, defending, said: "After investigation the Crown can in no way attribute the death of this individual to my client.
"A variety of substances were identified in the forensic report and there were pre-existing health difficulties so it is not known what was the straw that broke the camel's back."
Sheriff Kevin Drummond deferred sentence until next month for background reports and also lifted a bail condition which meant Tough could return to Selkirk after being forced to live in Edinburgh.
Update 16 January 2012: At Selkirk Sheriff Court, Tough was given 300 hours community service for the offence.