London 2012: Hawick creates its own Olympic Torch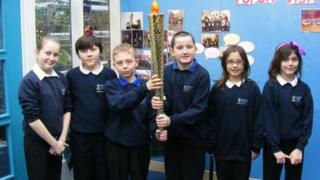 Hawick may not be on the route for the official 2012 Olympic Torch tour of the UK but, thanks to a local initiative, the townspeople now have a torch of their own - complete with the town's horse symbol.
It was crafted by local jeweller Hamish Smith and has a "flame" created by LED lights and powered by batteries.
And it will be hosted by local schools in and around Hawick over the coming months.
Mr Smith explained that creating the Hawick torch posed a bigger challenge than he first thought.
It had to be sturdy but light because it would be carried by children.
And crafting the special shape of the torch also caused some headaches.
The result, though, is impressive.
Hawick's own torch will be hosted by each of the schools for about a fortnight.
Burnfoot Primary has the honour of being first to have the torch on their premises.
But it won't just sit there. Each school has been urged to ensure that as many people in the surrounding community have the chance to view the torch.
And, whilst it's in Burnfoot's care, it will travel to the Scottish Parliament in Edinburgh with the school's Primary 7 pupils for their visit to Holyrood.
Next on the list to receive the torch will be Denholm Primary School, which lies about five miles from Burnfoot.
Because the Hawick torch, like the Olympic version, has a sporting connection, it will be accompanied by a party from Hawick Cycling Club and Burnfoot pupils on its journey.