Lockerbie bombing inquiry police officer numbers raised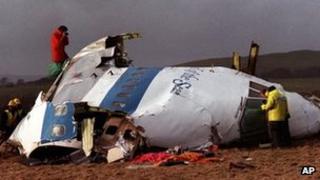 Additional police officers have been drafted into the Dumfries and Galloway Constabulary team investigating the Lockerbie bombing in 1988.
The inquiry has been scaled up following regime change in Libya.
Chief Constable Patrick Shearer said that the extra resources required for the probe had been supplied by the Scottish government.
Libyan Abdelbaset al-Megrahi remains the only man to be convicted of the bombing which claimed 270 lives.
He was freed on compassionate grounds almost two and a half years ago after being diagnosed with terminal cancer and given just months to live.
However, he remains alive in Tripoli.
The overthrow and death of Col Muammar Gaddafi last year opened up a possible opportunity for investigators to explore the role of others in the bombing.
The Crown Office has already asked the new authorities in Libya for help with the inquiry.
As a result, Dumfries and Galloway Constabulary, which has led the Lockerbie investigation from the start, has increased staffing levels within its inquiry team.
Detectives from the local force have already questioned Libya's former Foreign Minister Musa Kusa who fled to London when Col Gaddafi's regime started to fall.
A spokesman for Dumfries and Galloway Constabulary said that for operational reasons it could not reveal the number of officers it had added to its inquiry team.