Borders pupils begin Malawi meal mission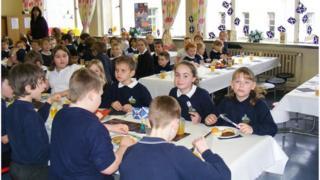 Pupils at schools across the Borders are taking part in a new initiative to help provide nutritious meals for fellow youngsters in Malawi - by taking a school lunch.
Three pence from every meal purchased at every school in the region on three specific dates each year will go to the charity Mary's Meals.
Parents are asked to consider donating an additional 3p on each of these days.
Collection boxes for the project will also be available in each school throughout the year.
Scottish Borders Council says it is committed to the initiative for the next two years.
The scheme was launched at a Burns lunch at Chirnside Primary School in Berwickshire this week.
Alastair McIntyre, SBC's catering services manager, said the authority was delighted to be taking part in an initiative which would provide practical help to pupils at Chizungulire and Likole in Malawi, as well as making Borders youngsters more aware of the experiences of children in other parts of the world.
Nick Trussler, head teacher at Chirnside, said senior pupils had already heard how 3p, which could buy "next to nothing" in Scotland, could go so much further in a country such as Malawi.
And the pupils themselves believe supporting Mary's Meals is a great idea.
Spike said: "It'll help some children avoid dying of starvation."
Stuart added: "It is really good to be able to give children regular meals like we have in Scotland."
And Jade said: "It'll be really helpful. Just imagine what it would be like not to have food as often as we do now."