Innerleithen rethinks Olympic welcome for one-woman mountain bike team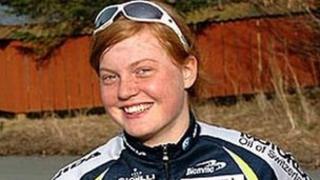 Community leaders in a Scottish Borders town have scaled down reception plans for a Swedish mountain bike team - after finding it had only one member.
Councillors were delighted when they heard of the plans to use Innerleithen as an Olympic training base.
They had booked the town's silver and pipe bands for celebrations.
However, it has now emerged that only Alexandra Engen, 24, has so far won enough ranking points to be part of the cross-country mountain biking team.
Innerleithen Community Council chairman George Brown said: "I thought there might be a squad of them coming but seeing as it's just one girl maybe we'll do something a little more understated.
"We could host the reception in the old phonebox at the top of Traquair Road.
"Regardless of the size of the team, it's still a feather in the town's cap to have an Olympic team choose it as a base."
In past years the Swedish mountain bike team would consist of up to eight riders, however poor results this year has seen only one gain the required ranking points so far.