Castle Douglas power cable theft 'incredibly dangerous'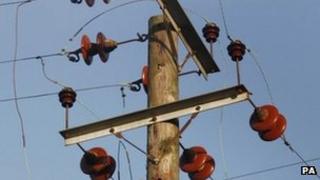 Scottish Power has said it is "incredibly fortunate" nobody was seriously hurt after power cables were stolen near Castle Douglas.
The incident happened some time between 17:30 on Friday and 08:30 on Monday at Culvennan Farm.
Police said the thieves would have had to isolate the power before climbing pylons to cut the cable down.
A Scottish Power spokesman described the theft as "incredibly dangerous" and appealed for information.
"The cables were live, carrying thousands of volts of electricity," he said.
"The criminals showed a staggering disregard for their own safety, the safety of the public, and that of our employees.
"It is important all our equipment is in service so we can maintain a good quality of electricity supply to all of our customers who depend on our service."
He said that such "dangerous acts" could cause serious injury and also cut off power supplies to homes and businesses.
"It quite simply beggars belief that anyone would put their life on the line by interfering with thousands of volts of electricity to steal small amounts of cable with a minimal scrap value," he added.
"It is incredibly fortunate that nobody was seriously hurt."
Anyone with information has been asked to contact Dumfries and Galloway Constabulary or a Scottish Power hotline on 0800 027 1950.