Dumfries and Galloway advice service brought in £12m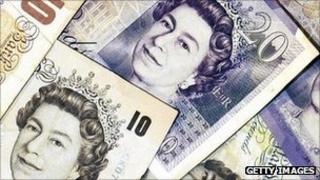 Dumfries and Galloway Citizens Advice Service has said it brought almost £12m to the region in compensation, withheld wages and unclaimed benefits last year.
It said the funds were a "welcome boost" at a time when many businesses and families were struggling.
Chief Executive Sue Irving said it was important to let the public know "real practical help" was available.
The service has offices based in Dumfries, Annan, Stranraer and Castle Douglas in the region.
It also runs outreach clinics in Sanquhar, Langholm, Dalbeattie, Wigtown, Newton Stewart, Kelloholm and Dumfries Infirmary.
"When people come to us with financial problems we look at every possible thing we can do to help them," said Ms Irving.
"Often we can negotiate with their creditors to freeze their debt or reduce their repayments.
"But in some cases we can actually help them get additional income," she said.
She said that could be through a benefit they did not know they were entitled to or some kind of compensation.
"In some cases it can be as much as thousands of pounds," she added.
"In others it's a smaller amount. But let's face it, in these troubled times every penny counts."