Scotland-England border bridge upgrade campaign begins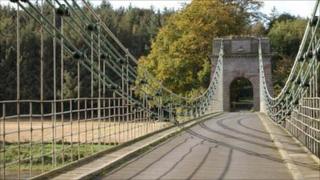 A campaign is being launched to restore one of the world's oldest suspension bridges still carrying road traffic, which links Scotland and England.
There is concern over the condition of the Union Chain Bridge as its 200th anniversary approaches.
The structure, opened in 1820, crosses the River Tweed from Fishwick in Berwickshire on the Scottish side to Horncliffe in England.
It was shut for nearly a year in 2007 due to structural problems.
Berwick Preservation Trust - which is able to access grant funding - is considering whether to get involved in the project.
Chairman Jamie Andrew said: "We are currently looking at a number of projects and have been asked if we could potentially get involved with a project to restore the Union Chain Bridge.
"It is still in the very early stages and no decision has been made but it is fair to say we are looking at the feasibility of whether the trust could get involved.
"If it did, we would be looking to lever in grant funding but responsibility for maintaining it in the long term would remain with Northumberland County Council and Scottish Borders Council."
Businesswoman Heather Robson, who runs the nearby Chain Bridge Honey Farm, is among campaigners concerned at the state of the bridge.
She said: "Given that it is the world's oldest suspension bridge still carrying traffic we feel it deserves better.
"It is an iconic structure and one we should be very proud of but for some reason it has been left to slip into this sorry state of disrepair.
"Its year-long closure really brought it home to us that its days as a traffic carrying bridge could soon be over.
"There was talk that it would be downgraded to a footbridge which would be a real shame."