Solway Firth mystery over car abandoned in the water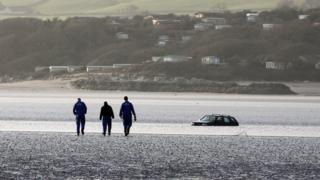 Police and coastguards are trying to trace the owners of a car found abandoned in waters off the coast of Dumfries and Galloway.
The Vauxhall Frontera was discovered in the Solway Firth at Cardoness Bay, near Sandgreen at Gatehouse-of-Fleet.
However, police have so far been unable to track down the owner of the vehicle.
A spokesman said they were awaiting a low tide to remove the car from the waters in order to check its registration plate.
One theory is that illegal cocklers may have become trapped as the fast-flowing Solway tide came in.
'Completely submerged'
A coastguard spokesman said: "We don't know how or when the vehicle became stuck.
"A member of the public notified police in the morning but the tide completely submerged it and it was late afternoon before we could get coastguards to it.
"We sent men out later in the day after we were told by police.
"It appears to have been abandoned and we are trying to find out who owns it."