Moffat and Jedburgh forests sold for more than £10m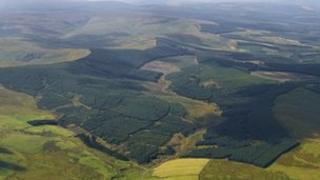 Two forests near Moffat and Jedburgh in the south of Scotland have been sold to a private investor for more than £10m.
The sale of the sites, predominantly planted with Sitka spruce, was carried out on behalf of a UK pension fund.
The Leithope and Badlieu forests had a combined asking price of £7.1m, but ended up fetching significantly more.
Bidwells, who handled the sale, said it showed forestry remained a "tangible, green investment" which enjoyed "significant tax incentives".
Raymond Henderson, Perth-based partner with the firm, said: "The market has been bolstered in recent years by strong timber prices and a rosy outlook for more of the same thanks, in part, to demand for sustainable wood for renewable energy."