Selkirk bypass 'promise' row rages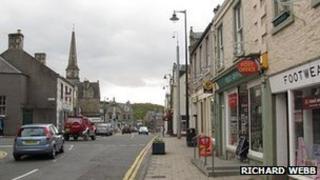 The Scottish government has been accused of "hypocrisy", after ministers confirmed they had no plans to build a bypass for Selkirk.
Tory MSP John Lamont said the move was an SNP election pledge, and claimed the nationalists were "all talk and no action".
But South of Scotland SNP MSP Paul Wheelhouse denied the pledge was made.
He said Mr Lamont had "misrepresented" the results of a survey carried out on a range of issues, last January.
Mr Wheelhouse said the issue of a Selkirk bypass was one question among many in the "small survey".
Transport Minister Keith Brown said this week there were no plans to build a bypass for the town.
He said the scheme was considered, but was ruled out because it would not have sufficiently cut accident rates.
Mr Lamont, MSP for Ettrick, Roxburgh and Berwickshire, said the response was "simply not good enough".
Mr Wheelhouse challenged Mr Lamont to produce a "shred of evidence" for his claims.
The SNP MSP said Selkirk residents were more worried about regeneration of the town centre, and the effect any bypass would have on the local economy.