Selkirk pupils polled on wind farm plans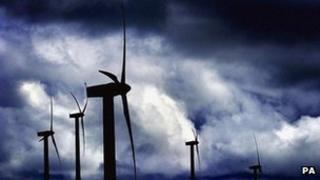 A poll on the preferred site for a wind farm in the Borders is giving the vote to secondary school pupils.
The Selkirk Regeneration Group, which is behind the plans, said the development would affect the future of young people in the town.
It wants to build a community wind farm in a bid to generate both cash and electricity.
However, the site and scale of the turbines is to be the subject of a vote with papers due back on 14 March.
The Selkirk scheme has been planned for some time and the public is being asked to give its views on potential locations.
Voting forms and leaflets will go to everyone in the TD7 postcode next week with public meetings also planned for the start of next month.
Everyone of secondary school age and upwards is entitled to vote - providing they were born before 15 August 2000.
Organisers of the poll say that the young people will be the adults who would have to oversee the disposal of the turbines in about 25 years.
They also believe that the revenue generated by the turbines could help boost the economy in Selkirk and encourage people to stay in the town.