Galashiels wind vane back on clock tower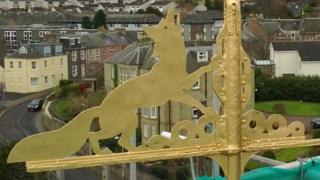 Works on a town clock in a Scottish Borders town are nearing completion after a weather vane which fell over in high winds has been put back in place.
The Galashiels landmark was damaged in high winds in December last year.
The wind vane fell over and became lodged in the clock tower roof.
Repair works, at a cost of about £17,000, have been carried out to provide it with better support while the clock faces on the tower have also been cleaned and repainted.
David Romanis, property manager for Scottish Borders Council, said: "This has been a relatively big job and we are very glad that the works are nearing completion.
"Due to the fact we have invested in a stainless steel shaft for the wind vane, this means it is now a more secure and robust anchorage system which is unlikely to ever present a problem again in the future.
"We would like to thank the residents of Galashiels for their patience during this time and we do apologise for any inconvenience these works may have caused."
All the scaffolding as part of the works will be taken down within the next two weeks.