Selkirk bypass campaign march staged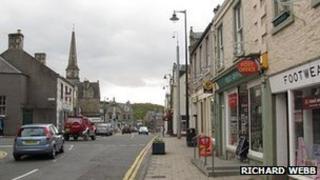 Campaigners have marched through a Borders town to highlight the need they see for a bypass for the area.
The event in Selkirk on Sunday was organised by Lib Dem councillor Vicky Davidson after the Scottish government said it had no plans for the project.
The walk also had the support of Conservative MSP John Lamont.
The SNP has said a survey showed people were more worried about regeneration of the town centre, and the effect any bypass would have on the local economy.
About 50 local people joined the march around the route which has been earmarked for a bypass for more than 60 years.
Ms Davidson said she was pleased at the turnout to support the event.
"We have such a huge problem in the centre of the town with the lorries getting bigger and the two right-angled turns," she said.
"It has been a problem for such a long time but it's getting worse and worse.
"Various solutions have been looked at over the years but I think really the bypass is the only option."
'Obviously important'
Mr Lamont said the route of the A7 through the town posed a "threat to the safety of residents and visitors".
"It is clear that the current traffic levels in the town are unacceptable and this route would be a huge help in taking that heavy traffic away from the town centre," he said.
"There was great support from the local community at the walk and shows that this project is obviously important to them."
The £39m scheme was recently left out of the Scottish government's strategic transport projects.
It said the scheme had been considered, but was ruled out because it would not have sufficiently cut accident rates.