Borders heroin users issued with overdose reversal kits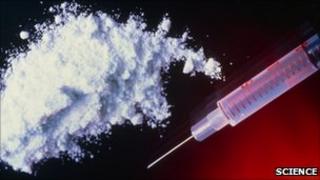 NHS Borders is to issue heroin addicts with "take home" overdose reversal kits in a bid to avoid drug deaths.
It is part of the Scottish government's national programme to increase the availability of naloxone.
The drug is given by injection and works by temporarily blocking the effect of the opiate drug and so it can reverse the effects of an overdose.
The kits are being made available at drop-in clinics run by NHS Borders and the Big River Project.
Dr Mike Kehoe, consultant psychiatrist with the Borders Addiction Service, said: "The aim of this programme is quite simply to save lives.
"For every person who dies through overdose, there are family and friends who share that tragedy."
He said overdoses from opiates such as heroin were not uncommon.
"Opiate drugs slow the respiratory system down and an overdose can stop someone breathing completely," he added.
"Many overdose casualties die before an ambulance can reach them.
"Naloxone will temporarily reverse the effects of the opiate, allowing more time for the emergency services to reach them."