Lothian and Borders coastal crime campaign launched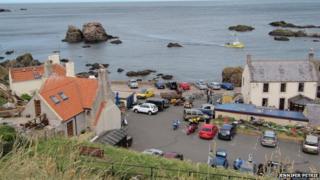 Lothian and Borders Police are launching a campaign to get the public to help spot criminal or terrorist activity on the force area's coastline.
Project Kraken is already running in a number of regions across the UK.
It encourages members of the maritime community to call the police if they see anything suspicious in coastal regions and waterways.
Police will give waterproof stickers and information leaflets to people who live, work or spend time on the coast.
Beer mats will also be used in local pubs, and a large portable advertising trailer featuring the Project Kraken logo, phone number and website will be brought to events such as sailing regattas.
Members of the community are being asked to watch out for people
attempting to test security and response times when going into restricted areas
taking pictures and making notes, and spending prolonged periods of time in the one place
buying unusual equipment, chemicals, uniforms or badges
who are clearly not local and whose actions do not fit into the daily routine of the area
Ch Insp Peter McGrath said: "People who spend a lot of time on the coast are the most likely to spot when something is not quite right.
"While it's almost impossible to say what a criminal or terrorist might look like, what a person does or says can become suspicious depending on the place they are in.
"Likewise, an unexpected vessel or cargo in a small port or marina may cause concern amongst those who live, work and relax in that environment."
He said Project Kraken had been designed to "collect and assess" whether reports needed further attention.
He said the force could then "respond appropriately to a potential or defined threat".