Loch Ettrick embankment plunge woman cut free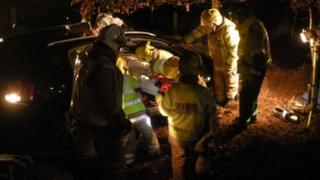 A woman is in hospital with leg injuries after her car plunged down a 40ft (12m) embankment into trees on a minor road in southern Scotland.
The 41-year-old was left trapped in wreckage in the incident near Loch Ettrick between Ae Village and Closeburn at about 04:30.
She managed to alert the emergency services by mobile phone.
The woman was released by fire crews using hydraulic cutting equipment and taken to hospital.
Investigations are continuing into the cause of the crash.