Dumfries curling teams break world record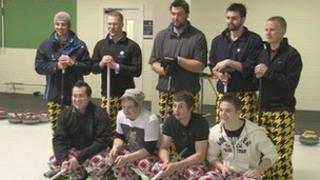 Ten south of Scotland curlers have managed to break the world record for the longest match ever played.
The two teams fought it out for 61 hours 39 minutes at Dumfries Ice Bowl - beating the previous mark of 57 hours and 44 seconds.
They had hoped to play for 72 hours but injuries started to take their toll.
A team of witnesses was on hand to make sure a strict set of rules was adhered to during the bid.
The challenge got under way on Thursday at 10:00 and eventually came to a close late on Saturday night.
Stuart Henderson, who was part of the team, said some of the participants could not go on any longer.
"A lot of players had trouble with their feet and we had people who had banged their knees and stuff like that," he said.
"It is just joints going that was probably the main factor.
"All of us were feeling it but some players just couldn't go on with the pains that they had and injuries."
However, they did make it far enough to beat the old record as well as achieve another couple of aims.
The bid was designed to raise awareness of the sport of curling as well as funds for players of the future.