Borders drink-drive crash nurse guilty of misconduct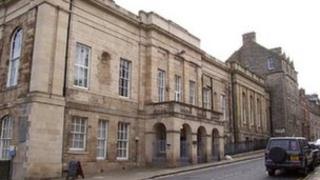 A support worker who was nearly double the drink drive limit when she crashed her car while giving a 74-year-old patient a lift has been found guilty of misconduct.
A Nursing and Midwifery Council conduct hearing ruled Wendy Perry's fitness to practise had been impaired.
Its panel imposed a five-year caution order.
Perry was convicted at Jedburgh Sheriff Court of driving while over the legal alcohol limit in February 2010.
The hearing was told that she was working for The Brothers of Charity Services when the offence took place.
She was employed as a support worker for people with learning difficulties.
She had been taking a patient to Kelso Garden Centre when she crashed her car, resulting in injuries to both herself and her passenger.
She later admitted driving while at nearly twice the legal alcohol limit and was fined £300 and banned from driving for 12 months. She was sacked from her job in June 2010.
Perry was allowed to undertake a rehabilitation course to reduce her disqualification by three months.
The NMC panel ruled she was guilty of misconduct and that her fitness to practise was impaired.
Sheila Hewitt, who chaired the panel, said: "The panel considers that driving while under the influence of alcohol is always a serious offence but in this case, the offence was aggravated by the fact that Ms Perry was driving while in the course of her employment.
"Not only was she on duty but she was conveying in her motor vehicle an elderly and vulnerable service user for whose care and welfare she was responsible.
"The conviction involved a serious departure from the standards expected of a registered nurse.
"This behaviour seriously undermines public confidence in the nursing profession and is wholly unacceptable."
However, the panel ruled that Perry, who attended the hearing in Edinburgh, had demonstrated genuine remorse for her actions.
Handing her a five-year caution order, Ms Hewitt added: "The panel noted Ms Perry did admit the conviction and has apologised for her actions.
"She has sought to address her behaviour to reduce the likelihood of a reoccurrence.
"She has told the panel she is now abstinent and feels more positive of the future.
"In all the circumstances, a caution order for the maximum period of five years would be sufficient to mark the seriousness of Ms Perry's actions."
Under such an order, a nurse or midwife is cautioned for their behaviour but is not prevented from practising.
For the duration of the caution, employers checking registration details will see why an order has been issued and for how long.