Exploding cream cartons cause delays on A75 near Castle Douglas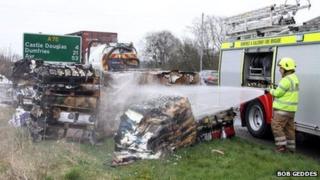 Hot milk and exploding cream cartons caused road delays after a lorry caught fire in Dumfries and Galloway.
The incident took place on the A75 on Tuesday morning.
The lorry's trailer, loaded with milk and pressurised cream containers, had been on fire for some time before motorists were able to alert driver Phil Sykes, from Cleveleys, Lancashire.
By the time he stopped the vehicle, about seven miles west of Castle Douglas, the load was well alight.
Firefighters said they were hampered by the exploding cream containers and cartons of hot milk.
Traffic was held up for more than two hours until the fire was extinguished.
Mr Sykes said the fire seemed to have been caused by brakes seizing and overheating.
He added that when he phoned his boss to let him know what happened, he was told it was no use crying over spilt milk.