Dumfries footballer stabbing boy detained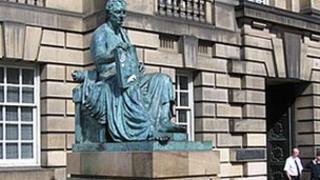 A schoolboy who repeatedly stabbed a promising young footballer has been ordered to be detained for 32 months.
The boy, who was 14 at the time, inflicted a dozen wounds on Queen of the South signing Shaun Handling in the attack in Dumfries last year.
He was originally charged with attempted murder but a guilty plea to a reduced charge of assault to severe injury and danger of life was accepted.
A judge told him that he had admitted "a very serious offence".
At the High Court in Edinburgh, Lord Brailsford told the boy, who is now 15 but cannot be named for legal reasons, that he would have faced a sentence of four years detention in secure accommodation but for his guilty plea in the case.
He said he took into account his age at the time of the offence and that reports showed he had "the misfortune to suffer from a significant psychological problem".
The judge said it was plain he had significant behavioural difficulties and psychological issues.
He expressed the hope that he would benefit from treatment he would receive while held in secure accommodation.
The court earlier heard from the victim's mother that he had trouble sleeping after the attack on Lincluden Road in Dumfries in May last year.
He had signed a contract with Queen of the South and was undergoing physiotherapy in a bid to regain fitness.
Defence counsel Dale Hughes said the boy accepted that he had taken a knife from his mother's house before the attack, maintaining it was primarily for protection.
He said the boy was in "a high state of anxiety" but acknowledged he went over the score and was contrite.