Hawick pubs get all clear in Cheltenham bet swoop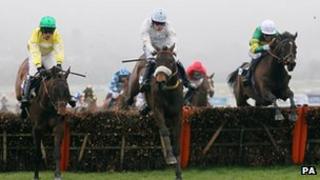 A police and Gambling Commission operation has targeted Borders pubs in order to crack down on illegal betting during the Cheltenham Festival.
The initiative took place in Hawick as part of Operation Oberon, aimed at tackling crime in licensed premises.
It followed a series of visits last week to provide information about gambling and licensing legislation.
Although no offences were detected, police said they wanted to make pubs a "no go area" for criminals.
Assistant Chief Constable Bill Skelly said: "The Cheltenham Festival is a popular fixture in the horse-racing calendar, and many people enjoy placing a bet as part of the event.
"Unfortunately there is a minority who choose to take advantage of this by running illegal gambling operations, which may take place within pubs and clubs.
"We will not tolerate illegal betting activity taking place in licensed premises, and we will deal robustly with anyone involved in this practice."
He said the licensed trade was "fully behind" what police were doing including this week's operation which took place on Wednesday.
Jim McCartan, investigations manager with the Gambling Commission said it was pleased to lend support to the multi-agency operation.
"Working in partnership with other law enforcement agencies is central to the commission's approach to keeping gambling fair and safe," he added.