Dumfries Peel Centre retail expansion faces refusal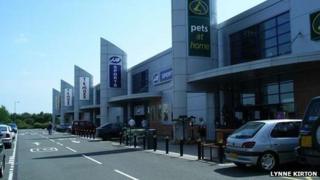 Planning officers are recommending refusal for a bid to expand a retail centre on the outskirts of Dumfries.
The application by Aviva Investors would see an extra unit constructed at the Peel Centre on Lockerbie Road.
The company assessed eight other locations in the town but ruled them out as not being appropriate.
However, councillors are being advised to reject the bid on the grounds that there are sites closer to the town centre which would be more suitable.
A report on the application also raises concerns about the impact on traders already operating in Dumfries.
It looked at a series of potential locations for the project which were studied by both planning officers and the developers.
They agreed that five sites - the former post office in the town centre, Whitesands market area, old swimming pool land, a former Co-op site and land at Munches Street would be unsuitable.
The applicants also ruled out another three potential locations but planning officers have disagreed.
They said it had not been demonstrated that a former Somerfield store, the Loreburn Hall and Brooms Road car park would not be suitable.