Gamesa's Glenluce wind turbine rejection overturned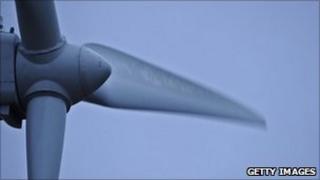 An 18-turbine wind farm in Wigtownshire has been approved by the Scottish government after being rejected by Dumfries and Galloway Council.
Developer Gamesa Energy UK appealed against the decision about the scheme at Carscreugh Fell near Glenluce.
Councillors refused the bid last April due to concerns about its landscape, visual and archaeological impact.
A reporter to Scottish ministers has now ruled the proposals can proceed with a string of conditions.
The wind farm also includes a control building housing 40 solar panels.
A reporter found the energy park would increase the amount of power generated by renewable resources and "would tend not to overwhelm the skyline".
She concluded it was in "broad overall accord with the relevant development plan".
Scottish Natural Heritage and Historic Scotland had asked for a total of six turbines to be removed from the scheme.
However, the reporter found that would not provide an improvement of "enough significance to warrant the resultant major drop in energy output."
Local concerns
Dumfries and Galloway's Labour MP Russell Brown said the decision was against the wishes of local people. He has written to First Minister Alex Salmond asking for the rejection to be upheld.
"Even supporters of wind energy are having their patience really tested by the number of wind turbines being erected in Dumfries and Galloway," he said.
He said local concerns had been "cast aside" by the Scottish government and claimed the region was taking an "unfair share" of the nation's wind turbines.
"I have written to the first minister to call on the government to uphold the council's rejection, because such blatant disregard for the concerns of local people cannot continue," he added.