Stranraer man jailed over Batley driver death crash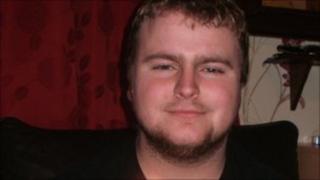 A Stranraer man has been jailed for causing the death of a young driver from West Yorkshire on the A75 in Dumfries and Galloway last year.
Brian Shingleston, 58, of the town's Craiglea Avenue, admitted committing the offence on 24 January 2011.
He pled guilty to causing the death of Mark Hoare, 22, of Batley, by driving without due care and attention.
At Kirkcudbright Sheriff Court, Shingleston was jailed for 12 months and banned from the road for two years.
He was also ordered to sit an extended driving test before he would be allowed to drive again.
The court heard how Shingleston had driven onto the wrong side of the road near Springholm, between Castle Douglas and Dumfries.
He claimed that he had been dazzled by the low January sun as he drove west towards his home with his wife and two elderly relations in the back of the car.
Mr Hoare was returning home to England from Stranraer after getting engaged to a woman from the town.
Procurator fiscal depute Gemma Hind told the court how the young mechanic was driving east at about 50mph while Shingleston was heading in the opposite direction.
The accident happened while Mr Hoare was negotiating a left hand bend near Springholm.
Ms Hind said that Shingleston's car had crossed the centre line of the road into the oncoming lane and collided head-on with Mr Hoare's.
Murray Robertson, representing Shingleston, apologised on behalf of his client and said he was deeply remorseful.
He said it was clear he was a man who was utterly aware of the effects and tragic consequences for the deceased's family and his fiancé.
He said that the sun was very low and had impaired Shingleston's vision and his wife, who was a front-seat passenger, had been wearing sunglasses.
Loss of life
In asking for a period of community service instead of custody, Mr Robertson said his client could only apologise for the loss of a young life and the tragic consequences.
"If he could turn the back the clock then he would," he added.
Sheriff Alastair Brown said that if a driver drove at 50mph and could not see, then he ran the risk of hitting something or someone.
He added: "In cases where a driver cannot see where he is going, then he should slow down until he can or stop.
"You failed to do so and your vehicle went wholly onto the opposite roadway and you would have hit whatever car was coming.
"There is no suggestion that Mr Hoare had any chance to avoid a collision."
He extended sympathy to the family of Mr Hoare and said that no penalty he could impose would make up for the loss of a young life.