Crook Inn community deal faces tight financial deadline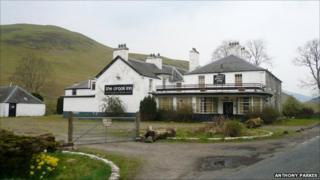 A deal has been struck for a community buyout of a 17th century Borders hostelry but it now faces a tight deadline to find the funding required.
Campaigners have been fighting to reopen the Crook Inn at Tweedsmuir for several years.
It shut six years ago and was set to be converted to housing.
A deal has now been agreed to let the community take over the pub but they need to raise the £160,000 to complete the purchase by the end of the year.
It is the latest twist in a lengthy battle over the fate of the inn which was first licensed in 1604.
The pub shut in 2006 and plans were lodged to turn it into accommodation.
However, those proposals were rejected by Scottish Borders Council and that decision was upheld by the Scottish government after a public hearing.
Local residents have campaigned throughout to try to reopen the property as a gathering place for the community.
A group of about 100 has now signed a deal to take over the main hotel building with owner James Doonan retaining the outbuildings and land at the back of the property.
They have until the end of the year to raise the asking price.
A Save the Crook funding drive is to be launched and it is hoped some cash will come from two nearby wind farms - as well as other local projects - including the Tweedsmuir Music Festival.