Cairnryan port security policing to be increased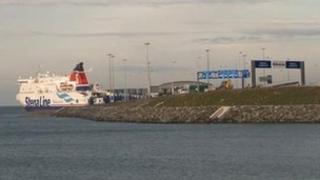 The Scottish government has agreed to pay for four extra police officers to boost security at the new Irish Sea ferry port at Cairnryan.
Dumfries and Galloway's chief constable has been pressing ministers for cash to replace posts lost as a result of funding cuts by the UK Border Agency.
Patrick Shearer said the ferry route was recognised as a target for criminal activity including illegal immigration.
He added that there was a clear need for the extra officers.
In 2010 the UKBA announced it was cutting the funding for the three officers in the area.
Since then, Dumfries and Galloway Constabulary has regularly made the case for additional resources.
It will now receive funds which Mr Shearer said would help target a difficult area for his force.
"There are significant challenges in terms of the numbers of people and the commercial traffic coming through that port," he said.
"So this extra resource on the policing side actually helps that and helps to deal with some of the challenges.
"That route is becoming busier by the day in terms of commercial traffic and also individuals coming from all over the world and seeing that as a route into the UK."
Confirming the additional funding, a Scottish government spokesperson said: "We take the policing of our ports extremely seriously, which is why the justice secretary has followed up on his promise to consider the bid made by Dumfries and Galloway Constabulary for extra police officers.
"Around £200,000 is being made available to help to deal with increased passenger numbers and ensure that the new port facilities are policed robustly."
But Dumfries and Galloway Labour MP Russell Brown said the move was "too little, too late" and only meant a previous "huge cut" had been made "less severe".