Queen of the South art plan at Palmerston Park ground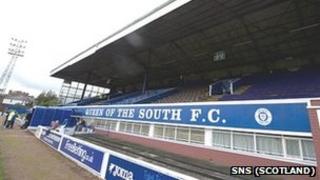 Plans have been drawn up for a series of artworks outside a Scottish first division football stadium.
A dozen panels would be placed along the exterior wall of the Terregles Street end of Queen of the South's Palmerston Park.
Each one would feature a representation of famous figures from history of the club or the town of Dumfries.
The proposals have been submitted by community group The People's Project along with a number of other art plans.
It also hopes to see an artwork put at the entrance to the town's Castledykes Park and another plaque on a shop premises in English Street.
The football ground plans are designed to take advantage of a series of indentations in the brickwork at one end of the stadium.
Fans have not been admitted to that section of the ground for several years but it remains a prominent public facade of the sporting site.
Plans submitted to the council state that each panel would carry a different design produced by local artist Josephine McSkimming.