New Borders ambulance station on horizon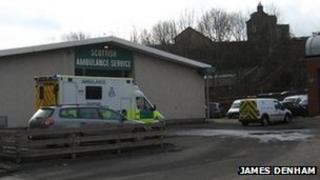 A new ambulance station to serve the central Borders could be built next to Borders General Hospital.
The Scottish Ambulance Service (SAS) said the facility, which would replace a depot in Galashiels, could provide a fit-for-purpose environment for staff.
A spokesman told BBC Radio Scotland that the current site was too small and did not meet modern needs.
The new station would be a joint project between the SAS and NHS Borders which is set to discuss the plans.
If the plans proceed, the Galashiels ambulance depot site would be used for a relocated Roxburgh Street medical practice.
It is proposed a paramedic would be based at the new health centre site.