Hawick anti-social action plan cuts complaint calls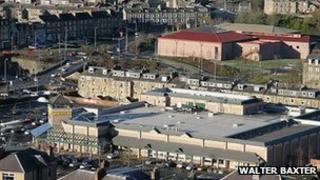 A crackdown on anti-social behaviour in parts of Hawick has cut the number of incident reports to police by 74%.
Council, police and housing association representatives took to the streets to try to address the issue in December.
It came in response to "numerous complaints" about such incidents in the Scottish Borders town.
A spokesman for the council's Safer Communities Team said the results were "very encouraging" and showed the benefits of "close co-operation".
Scottish Borders Council, Eildon Housing Association, Scottish Borders Housing Association, Lothian and Borders Police and local councillors were part of the initiative.
It focused on Allars Crescent, Allars Bank, Backdamgate, Crown Close, and Lovel Court in Hawick.
The council said residents living in the areas were "initially reluctant to provide information about what was happening due to fear of reprisals".
However, they were given information packs and "face-to-face reassurances" that action was being taken.
Identified problem neighbours also signed Acceptable Behaviour Contracts and many were given warnings about their conduct.
It resulted in a reduction in calls to police about anti-social behaviour in the first three months since the action took place.