Kingholm Quay mud rescue operation saves fisherman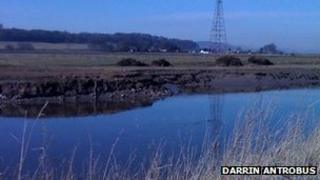 A fisherman has been rescued after getting stuck in mudflats near Dumfries - the second such incident in 24 hours.
Emergency services were called to the riverbank between Castledykes and Kingholm Quay at 11:45 on Thursday.
A statement from Dumfries and Galloway Fire and Rescue Service said it appeared recent tides had moved the riverbed, causing "increased danger".
On Wednesday morning a woman and her dog had to be rescued after getting stuck at a location nearby.
Almost exactly 24 hours later, specialist equipment was again called in to carry out the second rescue.
The fire service statement said: "This incident involved an experienced fisherman, who has over 17 years experience of fishing the area.
"But it appears that the recent tides have caused the movement of the river bed which has become unpredictable and so presents an increased danger to experienced and inexperienced people alike."
"Dumfries and Galloway Fire and Rescue Service would ask you to be extra vigilant when fishing in rivers in the area and not to put yourself in unnecessary danger - if in doubt stay out."